Sherry Kloss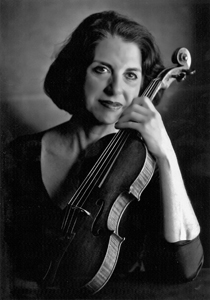 The "singing style" of violinist Sherry Kloss reflects the influence of her study with Nathan Milstein and Jascha Heifetz. Miss Kloss, acclaimed as "one of the foremost violinists of her generation," commanded international attention after winning the Concours de Violin in Europe, the Sterling Staff Competition, and the prestigious Honorary Degree of Excellence from the Academia Chigiana Musicale in Siena, Italy.
In 1980, Jascha Heifetz appointed her as Master Assistant in charge of his world renowned violin class at the University of Southern California. She held this position until the death of the master. Heifetz confirmed his belief in Sherry Kloss by bequeathing to her the Tononi violin with which he made his famous Carnegie Hall debut in 1917. It is upon this historic instrument that she now performs. Her recordings, "Forgotten Gems from the Heifetz Legacy", "Lost and Found Treasures of the Heifetz Legacy Vol. I and Vol. II" and her book "Jascha Heifetz Through My Eyes", have received national recognition and critical acclaim, placing her in the musical forefront today. Her book "Jascha Heifetz Through My Eyes" has also been translated into Chinese.
Besides an active concert schedule, including the 2005 Russian premiere of the American violin concerto of Lee Holdridge with the St. Petersburg Philharmonic, Sherry Kloss is strongly committed to education. She has held professorships in South Australia, Southern California and Indiana, and presents master classes throughout the world. She is Founder and Artistic Director of the "Music Institute for the Development of Personal Style" and Co-Founder of Jascha Heifetz Society. In 1998 and 2001, Pittsburgh, Pennsylvania issued proclamations recognizing Sherry Kloss as a prominent Pittsburgh artist.